When you think of pest control the most common critters that come to mind are roaches, rats, bed bugs, mosquitoes, and other traditional pests. Wildlife may not be at the top of your list but these sneaky pests can wreak havoc on your home and your health. Two wildlife pests that often get into your home are possums and raccoons. While they are noticeably different in appearance, these two animals share many similarities. They are both highly adaptable to their surroundings and can be quite creative in seeking out food sources. They are both also known to carry diseases that can be harmful to humans. Do you know how to identify a possum or a raccoon? What can you do to prevent these pests from damaging your home and property?
POSSUMS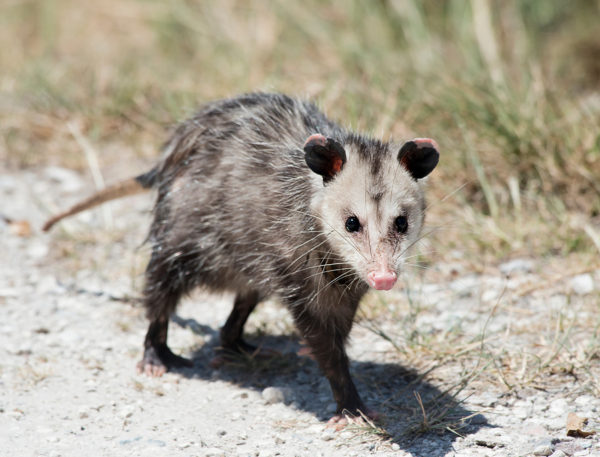 Possums are North America's only marsupial species. They can range from 14″ long to over 3 feet long. Their tails make up 50% of their total body length. They can weight up to 13 lbs. Possums are scavengers and will forage in trashcans and dumpsters for food. They are omnivores but prefer insects and carrion over fruits and nuts. Possums are highly nocturnal and are rarely seen by humans. They prefer to live near water. Possums are found throughout eastern North America. Possums are slow movers but are highly skilled climbers. They can get into attics and under houses, especially in crawlspaces. They will play dead as a defensive tactic.
 RACCOONS

Raccoons can range from just under 2 feet long to just over 3 feet long. They can weigh up to 23 lbs. They have a distinctive black mask coloring on their faces. Raccoons are scavengers and will often forage in trashcans and dumpsters for food. They are quite dexterous and can use their paws to open doors and lids. They are omnivores but prefer fruits and nuts over meat. They are nocturnal and are rarely seen by humans. If you spot a raccoon during the day be aware – this is often (but not always) a sign of rabies or other abnormal condition in the raccoon. Raccoons are found throughout most of the United States, southern Canada, and northern South America. Raccoons are creatures of habit. Once they discover a food source at your house they will keep coming back over and over. They often access attics and roofs of homes causing significant damage.
PREVENTION
Seal any garbage cans and compost bins at night.
Use locking lids on trashcans if possible or place a weight on top to keep the lids closed.
Pick up any fruit or other food items from your yard.
Make sure to bring your pet's food and water bowls indoors at night and empty bird feeders.
Keep the outside of your home well lit at night – possums and raccoons are nocturnal and shy away from lights.
Examine the outside of your home for possible entry points and seal them off. Make sure to check chimneys, attic vents, and seams along roofs and foundations.
Keep your yard clear of debris and keep the grass mowed.
Spray a mixture of half ammonia and half water on your trashcans or soak rags in the mixture and scatter them around your property. The smell will repel these pests.
Consider enclosing your crawlspace to eliminate their ability to get under your home.
If you think you have a wildlife issue, contact a licensed pest control expert who can provide you with a thorough evaluation and treatment plan.