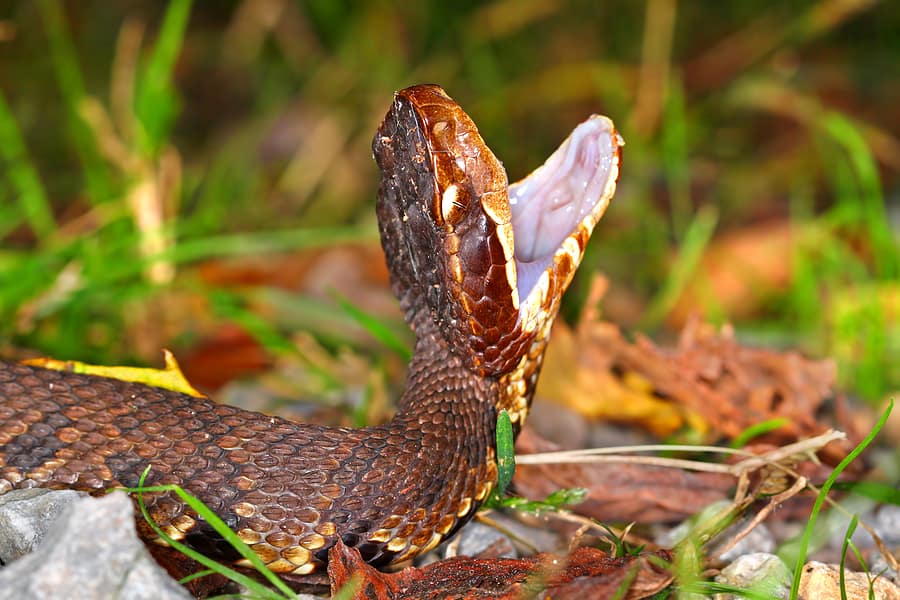 Despite popular belief, not all snakes are harmful to humans. In fact, most snakes will go out of their way to avoid humans when they encounter them. Only a handful of venomous snakes reside in Georgia. One of the most common of these is the water moccasin.
Water moccasins, also known as cottonmouths, is a venomous snake found throughout the southeastern United States. They are known as the cottonmouth because of the white coloring on the inside of their mouths that show when they are threatened. These snakes are usually a banded brown or yellow color. They range in size anywhere from 2 to 4 feet and can swim in the water and slither on land.
The bite of a water moccasin is very dangerous to humans. If you are bitten by a water moccasin, seek medical attention immediately. Symptoms following a water moccasin bite include pain, swelling, discoloration, weakness, fatigue, difficulty breathing, nausea, and decreased blood pressure.
Adult water moccasins have control over their venom. Because they have a limited supply, they have learned to conserve it, sometimes biting with a "dry bite" where no venom is released. Although painful, these bites aren't as dangerous as a venom-filled bite. This is also what makes baby and juvenile water moccasins so dangerous. These young snakes haven't learned control over their venom yet, therefore injecting their full supply when they bite.
If you encounter a water moccasin or any other snake you can't positively identify in the wild, steer clear of it and don't enter it's personal space. Don't attempt to move it or kill it. If you come across one of these snakes in your home, contact a professional for safe removal and relocation.
Although most snakes are actually beneficial to have around your home, you can prevent snakes with the following tips:
Minimize wood stacks around your home. Store firewood away from your house and elevate it off the ground.
Eliminate standing water around your home.
Clean up your yard by getting rid of brush piles, logs, rocks, etc. Keep your lawn mowed and shrubbery trimmed back to help reduce hiding places.
Make your yard less attractive to frogs and other food sources for snakes.
If you encounter a snake, contact a local pest control company who can implement safe and humane snake removal protocols.
You May Also Be Interested In:
Roof Rats: How To Identify and Eliminate
Common Rodents to Lookout for this Winter
Getting Ready for Spring Lawn Care
Bed Bugs: Where Do They Come From?